Product introduction

This product is made of high-performance polyolefin material, produced by biaxial mechanical stretching/chemical phase separation process, and then processed by hot pressing compounding process. It has high filtration accuracy, High quality, low price, is the most suitable choice to reduce the cost of membrane raw materials.
Process: high performance PO material---super thin sheet---biaxial stretching/chemical phase separation---hot pressing composite support
Pore formation: secondary stretching/chemical phase separation
Composite : Hot pressing, no adhesive
Heat shrinkage: <1.5% @100℃ 1h.
Tensile strength: 1750-2300kgf/cm2
MWCO:500-750KDa. UF Grade.
Material properties: Hydrophobic and oleophobic, capable of hydrophilic/lipophilic modification..

Product Specifications & Performance

Comparison of process performance parameters of membranes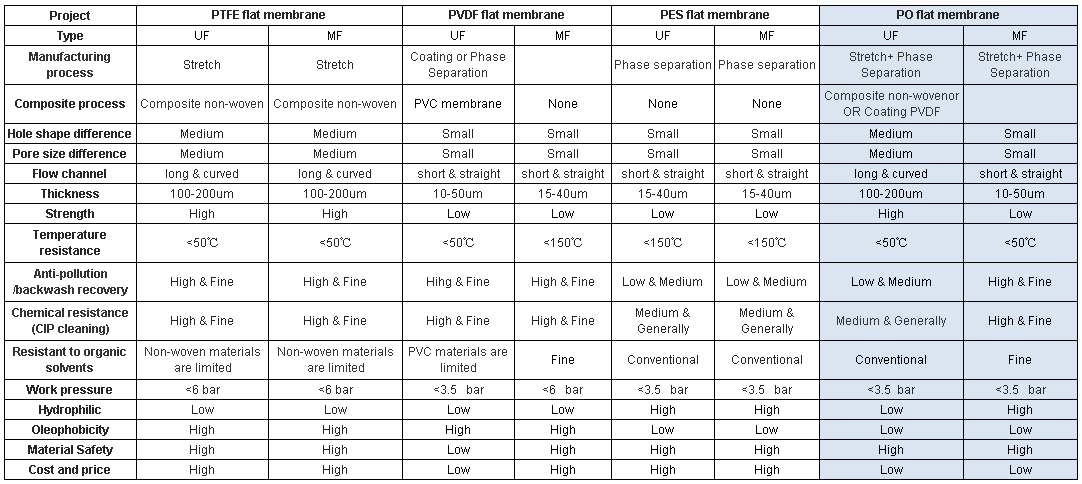 Applications & advantages:
● For flat membrane: can replace PES/PAN/PVDF/PTFE. Cost saving 30%.
● Used for pleated filter element, higher filtration accuracy than PP/PET meltblown & spunbond material.
● Excellent material, Strong compatibility, can be used for food/pharmaceutical grade precision filtration,